Challenge
Roche is a leading healthcare pioneer, focusing on finding new medicines and establishing data based insights that evolve the practice of medicine and help patients live longer, better lives.
To continually improve the lives of patients they began working with independent health experts to create a healthcare index. This new site would showcase where countries across Europe are performing and where they need support, highlighting correlations and best practice. We worked closely with the team on making sure the development of the index met the real and urgent needs of health experts.
Solution
Visitors to the index needed to be able to navigate to the data they were interested in, quickly and simply, this required personalisation. We wanted to make sure visitors could investigate the data, as those using the index would be scientists, patient groups, think tanks and policymakers they needed to have access to work with, export and share the data.
Combining our knowledge of utilising data, integrating systems and creating compelling visitor experiences, we addressed the complexities of the new index. Working with a tight deadline and large volumes of data, we collaborated with the research partner to agree on how the data would be normalised and handed over.
We quickly established a joint vision and created an interactive prototype which was tested with a panel of global healthcare experts. Our development team started working with the data and visualisation technologies, experimenting to see what was possible.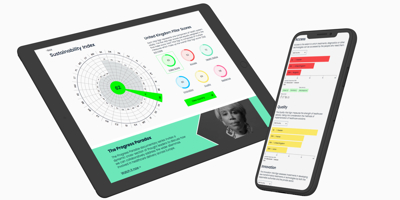 Impact
The index, FutureProofingHealthcare.com, integrates over 100 data sources, normalises and presents that data in a user friendly interactive way ready for thought leaders to discover how to improve Europe's healthcare systems.
Roche offices throughout Europe are now successfully using the site as a platform for public affairs discussions. Within six months of the launch, the index has been referenced by MEPs when discussing health policy and has been shortlisted for a SABRE Award.

Our latest work
Transformation is for everyone. We love sharing our thoughts, approaches, learning and research all gained from the work we do.