Last week we launched our first Charity User Group session with much success. In partnership with Acquia, we brought together 15 leading charities to discuss how they can deliver meaningful and impactful content in a new age of digital technologies, personalisation and connected experiences. Together we shared the experiences, approaches and challenges many UK charities face when delivering tailored digital experiences for their audiences.
The full morning session saw two halves, with the first offering a deep dive into industry themes and leading examples of personalised experiences. Shortly followed by two high energy interactive user group discussions with everyone sharing their experiences around digital planning, strategy and the tools they need to support the management, roll-out and optimisation of personalised content experiences.
Here are our five takeaways from the discussions:
1. Balanced personalisation  
Personalised experiences should capture the perfect balance between the needs of the many and of the individual. Creating something for everyone can be unsustainable to manage, but being too broad in experience risks alienating audiences. How do we deliver targeted experiences without being intrusive? Especially when it's paramount to land authentic and resonant messaging that cuts through, avoiding anything superficial and unhelpful.
Charities that are in the early stages of defining what personalisation means for them, and their audiences, should start by setting a vision, and then proceed with small steps, conducting regular tests, documenting what they learn, and adapting creative ideas based on audience insights, helping to build the case for further scale and investment.
2. Digital tools, platforms and architecture 
To have beautifully connected experiences, we need to build on solid foundations of establishing, connecting and utilising the right set of digital tools. Understanding the myriad of potential options, approaches and what is right for your organisation is difficult to navigate. In our discussions, many felt unsure of which tools, platforms and architectures are needed to deliver effective personalisation. Many also felt unclear about the best methodology for safe data storage, and how that data should flow through the multitude of systems any one organisation has.
To realise ambition and objectives for better-connected experiences, charities need first to map and establish the right technical foundations and enablers. A crawl, walk, run strategy starts with defining an evolutionary technical architecture strategy and roadmap, mapping data flows, and implementing platforms gradually.
3. Fostering an internal culture of limitless innovation 
Personalisation relies on connecting teams across content, technology, digital product and user experience. We need to break down silos, bringing together cross-functional agile teams that can test and iterate. Crucially, teams need to feel empowered by senior stakeholders to make decisions, test fast, and fail fast to enable innovation for charities. Charities can overcome barriers to innovation through cross-functional collaboration and fostering interactive partnerships between them. This can be implemented by creating a unified focus on outputs, integrating 'test and learn' dynamics, and coordinating executive leadership trust and buy-in. This is the foundation of a highly effective agile team, empowered to innovate and lead.
4. Enabling sharper data 
Sharper data refers to the effective planning and usage of data. Effective data is underpinned by the clarity of goals. Charities should aim to comprehensively map their data flow whilst also mapping user journeys, the goal of which is to identify valuable touchpoints for personalisation. For sharper data, charities should assess their data landscape, consider the key data points that will drive more effective personalised content, and use data analytics to track multiple touch points within the decision-making process.
5. Personalised tone of voice 
Tone of voice and perhaps more specifically messaging and positioning of personalised content and experiences need to be considered carefully. This involves understanding where audiences get their information from, who they prefer to receive it from, and how they prefer to receive it. Being able to engage with audiences in an authentic, relevant and personalised way needs to be underpinned by strong positioning and tone guidance as part of your content strategy. With clear guidance, content production can be streamlined, and with technology enablers charities can respond quicker and with more relevancy to things like emergency appeals, conveying the right message when it matters most.
Our final reflections
Often the first step is the hardest. Technology, processes, people, it can be quite daunting, but realise that there is most likely a small group of people in your organisation that would love to be part of delivering more meaningful experiences for your users, you're not alone! 
Start small, consider defining a vision statement for personalisation, synthesising the who, what and why so you have direction. Focus on the needs of your audiences, look at how they interact with your website, digital channels and content and try to settle on one small personalised interaction that will bring authentic value to your core audiences. Work with others to move through a test & learn approach with actionable insight and use this as a platform for building a case for scale and investment internally.
Our recent insights
Transformation is for everyone. We love sharing our thoughts, approaches, learning and research all gained from the work we do.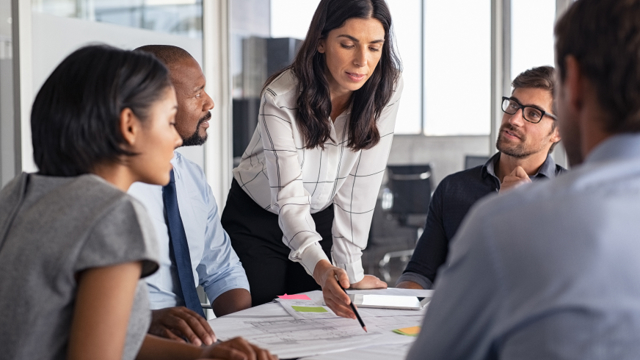 Defining the not for profit sector's digital divide
It's easy to be swept along by all the 'what' and 'how' of digital transformation without considering the most important question — why should the charity sector invest in digital transformation?
Read more