Each of the blog posts in our "This is how we do it" series have written about how integral and important the discipline is to TPXimpact's ways of working. We recognise each discipline as required to truly deliver user centred approaches. And so we end our series with Design Research – enabling teams to continually gain contextual and behavioural user understanding.   
In this blog I'll take you through:
our approach to design research
examples of our research and how it's being applied to the design process.
what's next for our practice
Our approach to design research
At TPXimpact, design research informs:
strategy development
service design and implementation
policy intervention
digital delivery
Our researchers draw from a wide range of research fields, because their backgrounds and experience are so diverse – from digital to industrial products, the arts, community organising, social science, architecture and planning, law, journalism and engineering to name a few.
At the core we all have the same foundational approaches for how we design and implement research for projects:
understanding existing knowledge and identifying gaps
problem and opportunity framing – including, understanding, defining, and prioritising business goals, issues, delivery constraints and milestones 
defining research scope and the objectives, user segments and sample sizes need to achieve representational and actionable findings 
designing and planning research – considering ethics, safeguarding, social and environmental context, engaging, equitable and reciprocal value for participants and the wider user groups being represented
conducting research and bringing teams members and stakeholders into the research bubble    
analysis and synthesis of data – building on existing knowledge and filling the gaps we're committed to understanding
communicating findings and actionable insights that teams can design with and act upon with confidence
With our different backgrounds and experience, we lean on each other, supporting different projects teams in how they apply different research techniques. For example, being able to apply research techniques from architectural and planning fields into our Department for Levelling Up, Housing and Communities (DLUHC) projects, or from arts and community organising into our local authority and charity projects.
This all means that the research toolkit we have is vast. We can truly tailor our approaches to achieve that deeper understanding we seek in engaging and interesting ways for our clients and users. 
What we're working on
The following are a small sample of the types of design research we're doing at the moment. 
With YoungMinds, we're working to understand the experience, assets, strengths, challenges and needs of young Black people who face difficulties with their mental health.
In discovery, we engaged 10 young Black people in a seven-day WhatsApp diary study and 90 min in-depth research interview which included the question - "If your mental health was a takeaway food, what takeaway food would it be and why?"
We asked a group of young Black activists for feedback on this research to help check and reduce where our bias may have creeped in whilst making sense of what we heard.
All participants who had supported the research were then invited back to take part in co-design activities to generate ideas in response to findings. The project is continuing in an alpha phase.
With a council in the East of England, we worked to understand the contextual causes of poverty in their local areas. A small number of residents joined the team and we trained, supported and facilitated them to conduct an ethnography study into their individual experiences and their communities over several weeks. 
We supported them to keep a diary of photos, voice clips and messages to document the different journeys into poverty, the barriers faced and the strengths drawn on to survive, helping us understand how people's daily lives are affected by poverty. The residents conducted research, documenting and sharing these stories to bring local and national data to life and forming possible ideas and solutions during co-design activities alongside councillors, public and voluntary sector service providers. Our team then continued research, designing, prototyping, and testing, working from the ideas generated. 
With NHS Business Services Authority and NHS England we designed a service to make it easier for people to find volunteering opportunities across England. 
We found inspiration in remote participatory methods used in placemaking –  designing postal paper packs and distributed them to current volunteers at various hospital trusts across England. These packs included questions to understand the digital confidence of our participants to plot them on our digital inclusion scales. They helped us gauge participant's digital comfort levels, and gather insights on how they prefer to discover volunteering opportunities. We made sure these questions were relatable, reflecting our service as if it were a person to ensure easy understanding. This research method enabled us to connect with individuals who fell on the lower end of the digital inclusion scale, informing and allowing us to tailor our design with their specific needs in mind.
And with NHS Blood and Transplant (NHSBT) we designed an integrated registration journey for blood and plasma donors. We wanted to enable the NHSBT team to implement the best user experience, develop the right infrastructure, and support people to understand what they were signing up for. 
We tested key assumptions by attending community events and holding pop-up research sessions with people interested in becoming donors. We also created low-fidelity prototypes to test new content needed for the journey. By working directly with those who would be impacted by this service to understand their needs, we were able to gather the insights needed to support NHSBT in developing the foundations of their service – which is now available in public beta.
What's next for the design research team?
Our team has grown rapidly this year, so we're working hard on the sustainability and scaling of our practice. We want to make better use of different research techniques in our work, and we are working to better establish and grow this as a practice by codifying our research toolkit and defining our offer - being clear about what sets us apart in our approach to service, community, policy delivery. 
We are keen on working in the open, and will continue to share more about the work we're doing, what we're developing and how we are applying it to our client work – so watch this space!
Our recent design blog posts
Transformation is for everyone. We love sharing our thoughts, approaches, learning and research all gained from the work we do.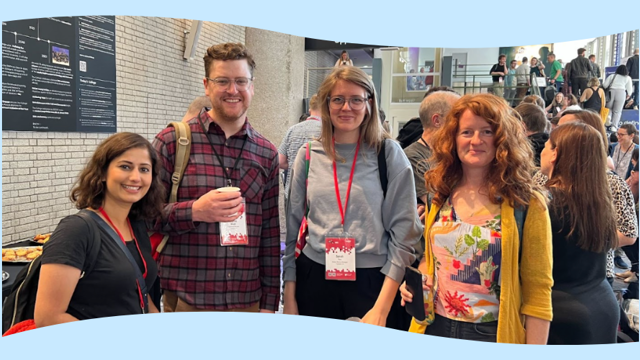 Find out about our team's experiences and what they learnt at this year's Camp Digital conference
Read more
We share our overall approach to co-design, what it is and isn't, and why and when we use it
Read more