As researchers, it's our responsibility to define how to approach our work to help deliver the desired outcomes of a project. To do this, we often spend lots of time questioning what research methods we should apply. One area that we feel doesn't get much attention is considering how to effectively engage the teams we work with. That's why we – a Lead Design Researcher and Senior Content Designer – came up with our approach, which we call the the design research bubble. 
This approach is a way to engage a full team in research activities (having them inside the bubble), pulling the team together in a collaborative way, so everyone has the same view of the research as the design researcher. 
We use this approach to make research a team sport – we've experienced first hand that getting a whole team into the design research bubble makes the difference in successful research delivery. 
How we make research collaborative
Our approach starts well before the research itself. We often run question gathering and assumption mapping workshops, allowing the whole team to come together to collate any questions or outstanding assumptions. 
We share any material created to facilitate research – like discussion guides, or anything we've recorded as a team in crit sessions. This helps the researcher make sure everyone has had their say on how we approach the sessions. 
We often have mailing lists set up for the core team and stakeholders. This means we can start to engage them to come along to live research. At this point, we want to encourage them to come along to see answers to their questions or the outcomes of testing their assumptions. 
Once the research has happened and the team has come along, we encourage a debrief. Not only is this a way for a researcher to offload any initial thoughts to the team, but the first reactions to seeing research happen are always great! 
To keep up momentum, we send short research insights to our mailing list. This is a quick way of keeping everyone engaged with what is coming up in research. 
We also do synthesis as a team, working together to sort observations and data from research into clusters, to identify themes and come to conclusions together. This way everything makes more sense and there's less risk of bias
The loop is finished with team playback sessions. These give us the opportunity to get the whole team and stakeholders together to play key insights back, encouraging everyone to take ownership of the work and creating a sense of team accountability.
Throughout the whole cycle, the design researcher isn't the only one sharing their work. We have constant daily design catch ups, subject matter expert engagement and content and design crits.  
Why context is important
Having the right amount of context is really important for teams to understand and use research in the right ways. Collaborating throughout the research process gives teams extra context to help them understand research insights. 
This quote from a user that could be interpreted differently depending on if you are inside or outside of the research bubble. 
This quote seems quite simple at first glance – the participant has said that something was really easy to understand. 
We might assume from this quote that we've got the content and design right. But we don't have a deep understanding of why they felt it was easy, or if they correctly completed the task.
They could actually be completely lost in the service, have completed the wrong task and just think they've understood and done it correctly. 
This would signal major issues with the content or interaction design which need to be pinpointed – something that's really difficult to do without seeing what the user is doing, how they're interacting with the page and where they end up. 
Bringing the whole team into the research bubble reduces the risk of them taking user quotes like this one out of context, and gives everyone a full picture of how a user is interacting with what they've designed.
Outside vs inside
Being on the outside of the bubble leads to an unclear view of research insights and context. Not having that first hand account means we're running much more on assumptions, we could be misinterpreting insights, our natural bias could be working to see something that isn't actually there. 
Being on the inside gives a clear view of the users, their needs and the context to their words. It reduces the chance of insights being misinterpreted and the wrong design decisions being made. 
Why we developed this approach
Applying this approach can have a massive influence on the impact of research work in our teams. This helps us by:
preventing biased research findings –  by acknowledging that every researcher has their own unconscious bias, we can involve whole teams to constructively challenge each other's interpretations of research. 
avoiding having a single point of failure – making sure research isn't siloed by involving the whole team gives everyone the same understanding of the user.
speeding up the design process – the team comes along the journey so they quickly think about how the research insights impact what is next. 
building empathy in the team – the team hearing the voice of the user directly means they build true empathy.  
supporting capability building – research is open so everyone can learn about the discipline. We're strong believers that although research is a craft in its own right, researchers can upskill others to run research. Especially when there are lower risk levels and the correct level of support is in place. 
We know from experience that applying the research bubble to its full extent isn't always possible. But introducing even some elements of this approach will have a significant impact on research and support the creation of the best possible service and project outcomes.
You can access a Miro board with templates that we use to apply this approach – so you can make a copy for your own use. 
We're looking to develop this set of templates based on real scenarios. If you try this and would like to share your experiences, get in touch with us: emma.sutcliffe@tpximpact.com or danielle.allen@tpximpact.com 
Our recent design blog posts
Transformation is for everyone. We love sharing our thoughts, approaches, learning and research all gained from the work we do.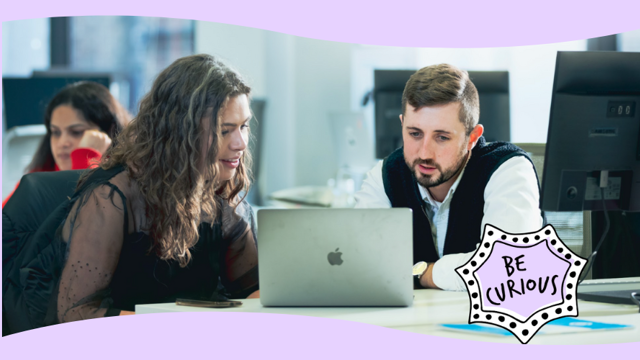 Find out about our team's experiences and what they learnt at this year's Camp Digital conference
Read more
We share our overall approach to co-design, what it is and isn't, and why and when we use it
Read more