Challenge
Crisis originally formed in 1967, as an urgent response to the growing homelessness crisis. Since then the non-commissioned charity has helped tens of thousands of people out of homelessness. 
However, the model Crisis is working within was designed at a time when there were more resources in the wider sector, and it was easier for people to access housing.
Now, Crisis' model must move from complementing others' services, to coordinating and delivering what is needed to end someone's homelessness. They therefore need to reconsider how to organise their services and collaborate with their partners to support people's needs. 
They wanted to reach consensus around who exactly Crisis should be focusing on supporting — accepting that this might be different across regions — and how to run an operation that puts residents at the heart, while effectively managing demand and prioritising staff wellbeing. 
Solution
The TPXimpact team was embedded within the Data, Digital and Technology Transformation team (DDTT) at Crisis. We worked closely with the organisation's Client Services directorate, which manages the operations of frontline services, as Crisis wanted our help getting these two programmes to work together more collaboratively. 
Through a mix of service design expertise and direct support for the teams, we were able to create better understanding and a shared strategy between the digital and resident facing services at Crisis.
We began by mapping the existing services at Crisis, identifying the needs and pain points of frontline staff and of those using their services. We then generated solutions together for how they could reshape their teams to work more effectively. 
Through workshops and interviews, we also explored how digital could better support their users. We learned that a hybrid digital and in person offering would meet people's needs more effectively in a post-pandemic world. This approach will enable Crisis to provide tailored support to individuals, no matter where or how they engage with the organisation, and also help Crisis to manage demand for its services.
Below is an example of how support can be provided within the homelessness space, showing the opportunity that exists for Crisis to help people in new ways.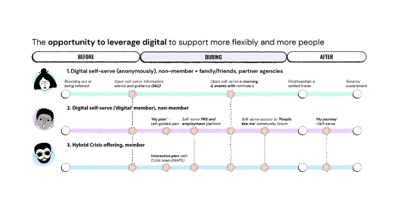 This offering is based around creating accessible digital solutions, on the web and via apps, with the potential to connect certain components to the Crisis internal case management system.  
Impact 
This project was a starting point for DDTT and client service teams at Crisis to work together more effectively, through shared language and a unified approach. Crisis is now building these principles of collaboration into its wider organisational strategy for the coming year. 
In the meantime, the two teams are eager to progress working in agile ways, co-designing and testing more with people facing homelessness. They are also looking to bring people with lived experience of homelessness in as permanent employees within their services. 
TPXimpact and Crisis hope to work together again to develop some of these digital solutions and to keep piloting new ways of working across Crisis service teams and with local partners.
"I'm really proud of what the Crisis team and TPXimpact achieved together in such a short period of time. Partnerships based on shared values are such an important tool in delivering change. We now have a much clearer sense of how we can continue to build on our strengths as well as look to achieve even more impact through our services, particularly through data, digital and technology."
Alison Prince
Programme Director - Data, Digital and Technology
"The TPXimpact team were always constructively challenging, worked to an exceptional standard and were a real joy to work alongside. The work TPXimpact has helped develop here will lead directly to long lasting and embedded improvements in our services and therefore will directly lead to more people's homelessness ending for good."
Chris Hancock
Director of Services Development
Our latest work
Transformation is for everyone. We love sharing our thoughts, approaches, learning and research all gained from the work we do.