This year, we had the pleasure of being the headline sponsor for New Local's Stronger Things event. This gathering of people passionate working to build greater community power is a highlight in our calendar.
Hundreds of individuals and organisations, including MPs and community organisations, descended on the City of London. We came to share our thoughts, ideas and solutions to transform our communities and public services for the better. These ideas were discussed in a series of seminars, panels and breakout sessions, some of which featured members of our fantastic team.
Sharing experiences
Community power is something that drives much of the work we do, supporting public sector and third sector organisations to bring the voices of people they serve into decision-making on issues that impact their lives. With Stronger Things being all about building community power, it provided a great chance to share our experiences and the lessons we've learned.
These experiences were shared by our fantastic Community Engagement & Participation Manager, Tom Chigbo, and Deliberative Engagement Officer, Charlotte Obijiaku who hosted an interactive workshop on Community Power and Engagement.
In an overflowing session in the stunning Guildhall crypts, our discussions were broad and deep, sharing what community power means to us and how it is driving innovative community engagement work around the country. Stories that inspired participants included our work with the South Yorkshire Mayoral Combined Authority to help them establish participatory democracy as a way of involving local people in decisions across the region. This involved developing a 'maturity assessment' to both establish existing good practice and opportunities for advancement, and supporting them with advice and a playbook of approaches for the future. Tom and Charlotte also explored a pioneering community engagement partnership, South London Listens, as well as more of our work supporting organisations across the country to expand their participatory democracy efforts. 
It was fantastic to see so many people in one room who wanted to understand, discuss and learn from one another.
A diverse community of thought
Platforms like Stronger Things are important for bringing a broad and diverse group together to discuss how we can help solve some of the biggest challenges we face at a local level. These were covered in some of the great panel sessions that our team had the pleasure to be a part of.
I chaired a conversation on participatory decision-making with the innovative team at Camden Council Camden Council who have been at the heart of bringing this to life in their place, including Camden Council Leader Georgia Gould and Caroline Kennedy, Head of Participation and Partnerships. Alongside hearing more about the value Camden place in these approaches, and the work they've done over time to embed them, what I particularly enjoyed about this session was hearing about the impact for local people firsthand. Residents from Camden joined us on stage to explain how their involvement in decision-making had benefited the community and helped them feel more confident in using their voices to shape change, which was a real justification for what we're all striving to achieve.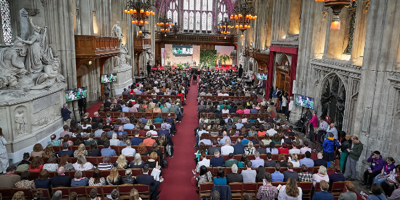 Kelly McBride, our Deliberative Democracy Lead, featured on another panel. She joined fellow experts to discuss the importance of putting communities front and centre when it comes to shaping policies that produce greener outcomes, while also improving services and meeting the needs of residents. Recently, Kelly and our team have been working to achieve exactly this with Barnet Council by designing and facilitating a citizens' assembly and a youth assembly, both of which brought residents together to shape the council and community's climate strategy.
The topics covered at the event were wide-ranging, including the challenges facing the NHS and its brilliant staff at the moment, which many of us will be aware of. Can taking a more community-led approach help ease some of these pressures? This was the focus of the panel featuring our managing partner for health, Iain O'Neill. Each of the panellists, ranging from GPs to a councillor, shared their heartfelt experiences and ideas on the role communities have to play in healthcare. Iain echoed these thoughts while championing the need for greater collaboration between local services and advocating for placing more trust in local services to deliver with communities.
A focus on communities
Opportunities to come together to openly share is a powerful driver towards creating the community-powered change we need. Following these great discussions at Stronger Things, we want to keep the energy alive and the creative and innovative ideas flowing!
Join us virtually on 14 September for an interactive and instructional workshop where we'll continue showcasing:
practical community engagement methodology
approaches to making community power real in your place
Register to attend the virtual workshop and we'll see you there to continue creating and deepening our community power.
Our recent insights
Transformation is for everyone. We love sharing our thoughts, approaches, learning and research all gained from the work we do.