Oxford's Zero Emission Zone
As a commitment to addressing the climate crisis locally, both Oxfordshire County Council and Oxford City Council are seeking to introduce a zero-emission zone. This proposal will start with the introduction of a pilot Zero Emission Zone (ZEZ) in a number of streets in the city centre to create cleaner air and quieter streets. The  ZEZ  will work based on a road user charging scheme, meaning vehicles in the zone will be charged depending on their emissions, encouraging residents and businesses to use zero emission vehicles.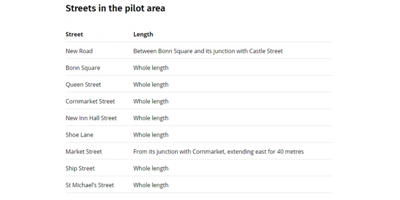 Moving away from developing policy and into implementation, Oxford is keen to introduce the programme in a way that puts the community at the heart. Communicating with local businesses is the first step in understanding how to make the transition as smooth as possible for those it will impact the most. Starting these conversations early is how the council can truly understand the adaptations that need to be made and the practical challenges local owners will face.
No matter their size, the introduction of the pilot ZEZ and the wider rollout will have an impact on all businesses. Each company will have its own set of unique conditions that affect how much they pay. Whether that's a difference in their delivery needs or the amount of in person staff that need to travel onsite. For the council, this means each business needs tailored information specific to them that will support them through the change.
In a blended team, we spoke to businesses in the area to understand the unique challenges and opportunities around implementing the ZEZ. Together we developed ideas for how the council could better engage with local businesses, this process has helped build stronger relationships across the city.
Sustainability requires collaboration
Alongside these practical implications when it comes to supporting business owners, there's also the importance of transparency and collaboration. There's a strong sense of community in Oxford, local companies support the ZEZ and want to see it succeed.
Putting environmental policy into practice is a challenge, its success lies in managing the reality and involving and supporting communities through this change. One of these challenges is creating ways for people to collaborate. Business owners in Oxford want to know about future plans, voice their opinions and hear about other projects the council is doing, this requires transparency.
Working with Oxford to develop ideas around open communication that will support them and local businesses to work together through the ZEZ programme is the first step. Although there may be a difficult balance to strike between being positive and being authentic, the council strives to be honest about the challenges businesses may face as the city adapts to new ways of addressing the climate crisis.
To maintain this relationship and momentum of public institutions and people coming together, Oxford will continue to share updates and outcomes of the project. Inviting business owners to contribute to decision making on how the money generated from the scheme will be used to benefit their community, locally. A focus on collaboration and transparency will not only make sure companies feel supported and valued but will also lay the foundations for them to become true ambassadors when the programme expands.
From a plan to reality
Working out how to move things in a new and more environmentally conscious direction that addresses the complex challenges of the climate era requires imagination that's almost impossible on your own. Oxford is now working closely with businesses, residents and staff across the council to do things differently, starting with the ambitious ZEZ programme.
"The worst thing we can do is leave people out."
Oxford business owner
Support is crucial in the process of incorporating sustainability into practice. Businesses are willing and eager to contribute when they understand how it will benefit their local place and they're a crucial part of closing the gap when taking something from a plan to reality.
The Oxford ZEZ pilot will be launched later this year following the resolution of unforeseen technical issues. As both councils believe the programme should be introduced without creating difficulty for local businesses and residents to work well with the scheme, the extra time has supported more valuable engagement with the local community. By reaching out and working together to find solutions we can make the shift from developing policy to implementing policy in a way that truly involves people in the process.
Our recent insights