Challenge
The Towns Fund is at the heart of the government's ambition to level up places that have historically lacked investment and opportunity, enabling local economic growth and regeneration. Worth a total of more than £2.4 billion, all 101 towns selected for the programme received their Town Deal offers, paving the way for the delivery of nearly 800 projects across England.
TPXimpact worked with the Department for Levelling Up, Housing and Communities (DLUHC) to provide advice and support to towns, helping them deliver their Town Deals and build stronger local economies and communities.
Solution
As part of the Towns Fund Delivery Partner (TFDP) — a group of six private sector organisations - we helped towns to develop a vision, produce Town Investment Plans to secure Town Deal offers, and develop business cases for projects. Open to all, support was delivered and is still available, via a dedicated Towns Fund website.
Impact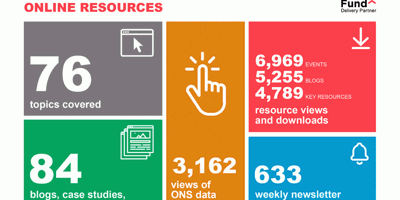 We provided support for groups of towns with common needs via small group workshops, masterclasses, learning programmes and webinars.
We also provided one to one advice from regional discipline specialists, covering topics such as visioning and strategy, community engagement, funding and finance, and business case development.
TFDP's insights helped DLUHC develop its guidelines and requirements, identify the level and type of support that could help towns that needed it most, and make continuous improvements to the delivery of the Towns Fund. A Total Towns Outcomes Framework questionnaire also gained an understanding of the longer term priorities and desired outcomes towns wanted to see.
TFDP and programme performance was measured using bespoke KPIs and monitored via dashboards and reports, allowing the TFDP to adapt delivery to meet town and programme needs. A Panel of Brilliant People was devised by the TFDP, bringing together local representatives with diverse backgrounds to consider how green growth could work for everyone, with panellists eventually presenting their recommendations to the government.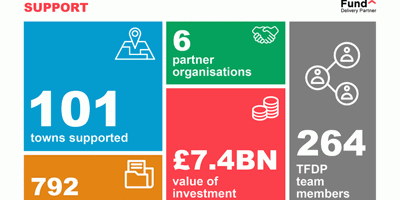 Our work as part of the TFDP helped towns, local authorities, local people, and DLUHC and government in a variety of ways.
For towns:
helped secure their Town Deal offers and prepare them for the next stages
provided access to a place-based learning resource relevant for all UK towns and places that are open to all
shared towns' pride in telling their stories
For local authorities and Town Deal Boards:
gained collective knowledge and capabilities through peer-to-peer place-based learning
acquired new personal skills and training accreditation
brought towns together to support each other around common challenges, in sharing ideas and best practice, and helping create new connections and mentoring between towns
For local people, businesses and communities:
supported the creation of an environment where they can shape the future of their towns, and build confidence in their new capabilities to deliver their Town Deals and future initiatives


For DLUHC and government:
offered insights into real challenges and barriers to sustainable growth, and what support works at town level to help build resilient places
created a new approach to delivering government investment programmes between central and local government, that is informing the shape of future policy and delivery
brought together new and direct links between other government departments, Arms-Length Bodies and towns
Working with TPXimpact
"The team played a key strategic role in helping shape and inform a learning programme and other services for towns. The learning programmes - Place Leadership and Making Connections Count, have been particularly innovative and well-received by all towns who have participated in them."
Louis Mayhew
Funding Delivery Portfolio Office Cities and Local Growth Unit, Department for Levelling Up, Housing and Communities
Our latest work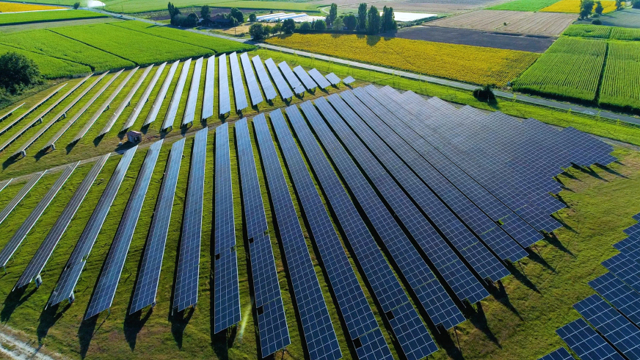 Designing a service to help homeowners reduce their carbon footprint
How we designed a service for councils to empower individuals to retrofit their homes and work towards net zero.
Involving communities in the decisions that affect them in South Yorkshire
Helping South Yorkshire Mayoral Combined Authority to better meet the needs of their citizens.
Engaging communities in climate action
Putting the community's voice into a London borough's climate action plan.