Challenge
During the COVID-19 crisis, councils have faced new challenges around engaging residents and communities in decisions that affect their communities, shifting to digital methods that are more accessible during the lockdown, such as online committees. Some aspects of planning have been more difficult to shift online, notably the ubiquitous 'planning notice' that you'll see attached to lampposts.
Camden Council was awarded funding to design and test a new digital version of the planning notice. We've been supporting them to design a site notice that encourages residents who don't often get involved with local planning developments to participate and have their say on shaping the future of their place.
Solution
The planning system is difficult to navigate, only people with the time, skills and knowledge required to engage in decisions tend to participate. Working alongside planners in Camden, we wanted to digitise planning notices in a way that's visually appealing, easy to understand and encourages those who don't usually get involved in planning to engage.
Building on insights and learning from previous planning projects we reviewed existing research on attitudes and interests in place-based engagement, and our previous work with Camden on social value in planning.
To understand the challenge with engagement more locally, we also ran workshops with residents, finding that:
site notices are badly designed so people don't read them
site notices use planning jargon that confuses people and are difficult to find
lots of residents don't know about planning or think it's relevant to them
residents don't believe they'll be listened to
community groups are sceptical about their influence and feel left out
residents don't have the time or capacity to get involved in planning
Before designing and testing prototypes to address these challenges we defined an initial set of economic and social impact measures to communicate to residents through the site notice. These included transport, environment, local schools and local infrastructure amongst others. This would help us when prototyping to understand whether residents care about these areas, if they make them want to engage and what other data they're interested in.
What we learned from prototyping
Running user research sessions we tested six different prototypes to learn what elements of a digital site notice would encourage and maintain citizen engagement.
Reducing the amount of information and laying it out clearly is helpful but simple language and images are essential to improve understanding.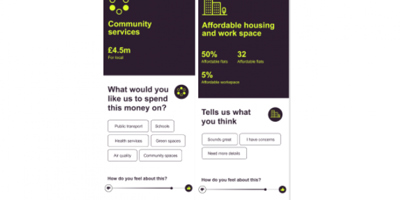 Residents with less knowledge of the planning system felt more able to give feedback when they knew what kind of answers they were expected to give. They like to respond in different ways, so a range of feedback mechanisms is valuable. Residents also like being able to choose, engage with and feedback separately on the areas that interest them.
Telling them how their feedback will be used also builds trust and encourages engagement, but the planning authority must be able to use that feedback and update residents.
"How could we do better? This is good and creates goodwill. We're listening. All of this is very constructive and productive."
Resident
"I'd like to give feedback on the things I care about like transport and greenspace. It's good to be able to ask for more detail."
Resident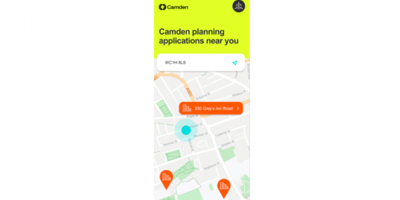 The map helps users understand the planning landscape in their community and encourages them to engage and explore. The map is a useful context setter, but residents need to see the different development types, including details such as start date and length to understand how it might affect them.
Impact
Open data Twitter bot
Using Camden's open data feed we were able to quickly create a Twitter bot that tweets details of new planning applications along with a map of the location. This is a quick example of what can be done with open data and how it could be used to promote the planning system and engage different audiences.
Next steps
Further testing is required on the digital site notice, we're recommending Camden focus on:
interactions to make sure residents can complete tasks such as navigating the map
alternative questions and feedback mechanisms, so residents understand why they're giving feedback and how it will be used
making sure the impact measures are technically feasible and relevant to residents
Camden has been successful in receiving follow-on funding from MHCLG to take this project forward. The next steps will also see them build a working version of the digital notice, this will create digital access to information about changes in Camden while engaging all parts of the community. The council is committed to making sure residents are able to have a voice in shaping their local place and the site notice is the latest way they're achieving that vision.
Our latest work
Transformation is for everyone. We love sharing our thoughts, approaches, learning and research all gained from the work we do.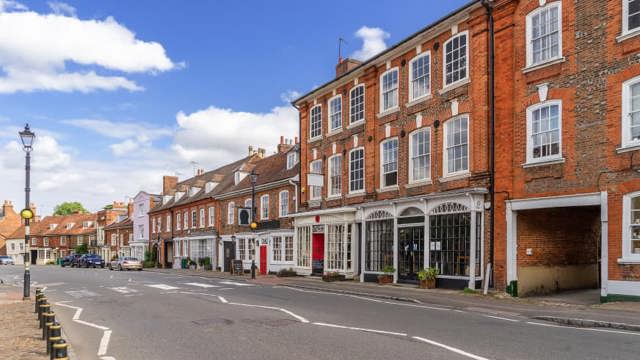 The future Northants Programme
How we used a partnership approach to design and build new websites for two new unitary authorities in Northamptonshire.
Read more