Challenge
The Medicines Homecare team, based at Morriston Hospital in Swansea, manages outpatient prescriptions for people with chronic conditions, from cancers to rheumatology. Each prescription has to be checked by hospital pharmacists to ensure it meets all relevant criteria. With the service having more than 3,400 patients on its books, the process is time consuming, labour intensive and monotonous.
"These medicines are for chronic, severe, life debilitating diseases. Without the prescriptions being validated by pharmacists, there isn't an alternative method of supply. But our pharmacists' time is best placed at the bedside, in a clinical setting — where they make the most of their experience."
Staff Member
Pharmacy Team
Solution
TPXimpact worked with the Medicines Homecare team as part of 'Innovate to Save', which supports innovation in public services in Wales. We successfully implemented intelligent automation technology, automating the review and validation stage of the prescription process. With the automation software taking care of these elements, pharmacy staff were free to focus on more value adding tasks elsewhere.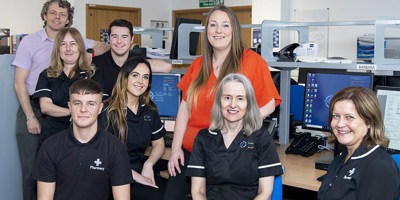 Impact
Thanks to the automation, the pharmacy team made time savings of 66%. The pharmacists were really excited about the technology, seeing it as a tool that will empower them to achieve more in their day to day roles. This includes spending more time with patients, which is an incredibly important element of the care they provide.
"[The automation] hasn't got any other duties. Its bleeper isn't going off, its phone isn't going off. It's not being distracted at all. It can just get on with the work and process prescriptions. This frees up our pharmacists to spend more time at the patient's bedside, doing that clinical intervention which is what they are trained for."
Reuben Morgan
Team Manager at Medicines Homecare
Our latest work
Transformation is for everyone. We love sharing our thoughts, approaches, learning and research all gained from the work we do.