How we met…
TPXimpact started working with Unlock after a chance meeting between people passionate about helping people with convictions.
They provide information, advice and support, including running an information site and confidential peer-run helpline. They help practitioners support people by providing criminal record disclosure training, and support employers and universities to treat people fairly.
First looking at their digital strategy, we then went on to plan and carry out a two day design sprint. Our Business Analyst, Frankie McGowan, describes it as 'the stars aligning' after two new starters, Dani Allen and Emma Sutcliffe, got involved in the sprint planning and conducting of research.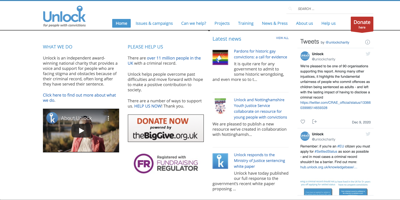 What Unlock do to help people now
Unlock provide vital information to people who have cautions and convictions, and have a helpline staffed by people who have convictions themselves and have been through the process. Unlock's clients trust them to give good advice as they've been through the system too.
Unlock also create positive policy change at a government level, influencing law and making the lives of people with convictions better – some recent changes to the law, have been seven years in the making.
They provide training for people who work in human resources and recruitment about:
understanding the law

best practice

questions they should ask

why they can't ask certain things
Lots of employers think they have to ask about everything, so helping them understand what they can ask for and what will be disclosed on a DBS check is important.
Unlock at the Criminal Justice Alliance Awards
On Friday 27 November 2020, Unlock won an award for 'Outstanding National Organisation' at the Criminal Justice Alliance awards.
The online awards ceremony celebrated the amazing work of inspiring individuals and organisations working across the criminal justice system. It was an honour for Unlock to be nominated alongside such dedicated people doing incredible and essential work.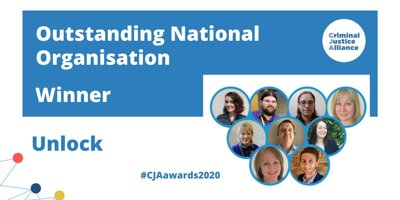 What Unlock want to do differently
Long term, Unlock want to redevelop their websites because there are eleven million people with criminal records who might need some information or support. Unlock's helpline staff and volunteers can't support that many people, so Unlock want people to be able to support and help themselves using the information they provide on their website.
Unlock's users
Unlock have three distinct sets of users who come to their sites and call the helpline:
people with convictions or cautions

employers

practitioners
Practitioners can be a wide range of people, such as probation workers, and others running services to support people with convictions, job centre staff, anyone advising people on getting employment, and also people working in recruitment and employment support.
What we decided to do for our design sprint
We reviewed Unlock's website analytics and used hotjar, as well as chatting to their Digital and Communications Manager Ruth. From this, we chose to focus our sprint on people with convictions, as we found that the top five most visited pages all related to people with convictions or cautions. We ruled out practitioners because this felt like a larger and less known user group. Practitioners also get involved in a lot of face to face training and with Covid-19 restrictions, none of this was happening.
We spent some time planning things out and deciding what the most useful outcomes would be for Unlock, and then got to work recruiting users.
Next, we'll talk about the planning stage of the sprint and how we decided to do what we did.
To find out more about what the charity Unlock do, head to their website here www.unlock.org.uk
Our recent insights