This post is the first in our new 'month notes' series,  where we'll be sharing what's been going on around our teams over the last month. 
September has been busy for us, as the summer holiday season drew to a close, and we got out and about attending events and conferences once again.
We'll be posting full roundups of some of the events and conferences we attended in the coming weeks, but for now, here are some of our highlights!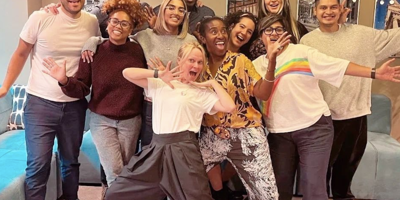 We launched our Design Academy
After months of hard work, the team – led by Design Lead (Learning and Development) Tash Willcocks – welcomed the first cohort of ten designers to our Design Academy.
A mixture of graduates, early career designers and career switchers from across the country, our new team members came together in London for a week earlier this month to meet one another, learn about how we work, and start their 'bootcamp' to prepare them for what they'll be learning over the next year.

We're really excited to have our Academy crew join the team, and will be sharing updates and highlights from their time with us in the coming months. 
Polly Cook was interviewed as part of a women in leadership series
Another one of our Design Leads, Polly Cook, was interviewed by Think Digital about her career in the charity and consultancy sector.
Polly reflects here on her career to date, shares advice for other women working in the digital space, and talks about her mentors.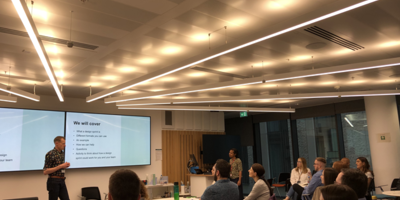 We attended and supported DWP Digital events
Our Chief Designer Ben Holliday and Lead Service Designer Nina Wafula attended DWP Digital events in Leeds and Manchester.
Ben attended the DWP Digital showcase on Product Mindset and Customer Experience in Leeds. Hosted by new CDIO Rich Corbridge, the event featured talks from user centred design and product leaders at DWP.

The next day, Nina co-ran a Design Sprint session as part of a full conference day of events in Manchester, sharing work with Jon Houghton (DWP Head of Interaction Design) from our UCD as a Service and strategic support work with DWP's UCD practice. 
Dave Robson attended UX Healthcare 2023

Dave, one of our Lead Service Designers, who has led work with many of our health clients, attended this year's UX Healthcare conference in Berlin. 
One of the highlights he shared back with the team was a talk on how service design is helping to eliminate Hepatitis C, presented by Alex Barker – one of our Design Associates.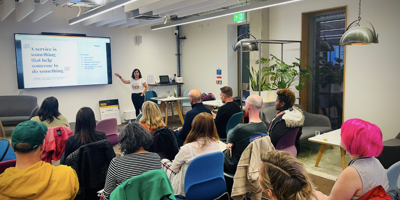 Jaskiran Kang gave a talk in Nottingham
Jas, our Head of Service Design, spoke at this month's Service Design meet-up at Nottingham Trent University.  Paul Bailey has been co-running this event since January 2023, and the September session was focused around 'doing service design' in government.
Jas was one of two speakers, asked to share her service design journey, practical experience and top tips for working within the service standards. She spoke about her experience in service design, showcased everyday patterns – how the human brain is wired to see, think and behave in patterns – and brought this experience back to the Service Standard, providing tips to help designers feel comfortable applying and using it.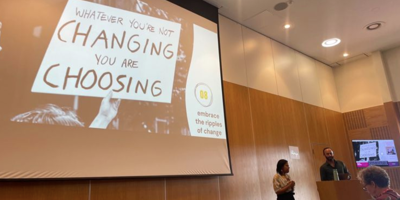 The team attended– and spoke at – Service Design in Government 2023
A small group of us travelled up to Edinburgh to attend SD in Gov. As well as attending, some of the team were also speakers.
Mike Woolf (Director of Strategy and Services at YoungMinds) and Nina Wafula talked about the lessons they learned – and the journey the organisation has been – on  taking an equitable design approach to designing a mental health service for young Black people, as part of our work with Young Minds. 
This included:
how their work shifted an organisation's understanding of what it means to 'design for everyone', by taking a real stance on equity and focusing on those who aren't currently receiving support
how co-design approaches helped them challenge ingrained organisational assumptions and how they we checked their biases
reflection on what it means to blur the boundaries between lived experience and professionalism
Harriet Pugh (Design Lead) and Zung Nguyen Vu (Partner) spoke about how net-zero policy is designed in the UK.They spoke about why a top-down, expert-led approach is failing – and how they've been working with our TPXimpact teams and members of the Department for Energy Security and Net Zero (DESNZ) to connect policy with delivery, to influence a more service and user-led approach to the way policy is designed.
That's all for September – we'll  be back next month with another roundup. 
If you're interested in the work we're doing and would like to join our design team, take a look at our open roles.
Our recent design blog posts
Transformation is for everyone. We love sharing our thoughts, approaches, learning and research all gained from the work we do.