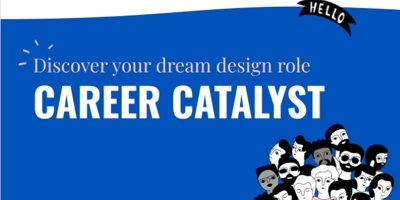 We currently have lots of opportunities for people to join our design community  TPXimpact. With open roles across service design, interaction and product design, content design and design research as we scale, and build on our design philosophy. 
But we want to do more than simply share a job description and hope everyone will get everything they need from a few hundred words. We want to be as open and transparent as possible about who we are, and what we stand for.
That's why last week, we ran our first open recruitment event - the Career Catalyst.
What is a Career Catalyst session?
Applying for a new job or even just thinking about changing jobs can be challenging – we want to remove some of the mystery that's usually involved. A Career Catalyst session is a virtual event for anyone who might be interested in one of our roles – now or in the future – to find out more about the role, as well as work and life at TPXimpact. 
The aim is to make our team more visible, so those attending can speak to them directly. It's about showing our culture, and also about creating the space for people to feel safe and to ask questions of any size.
Highlights and questions from our first session…
Here are some of the themes that came out of the first session, and how our team responded.
About our hiring process
Our head of Service Design, Jaskiran Kang, spoke about our hiring process, outlining four main elements:
the job advert - we're seeking passionate people who already have many of the skills we're looking for. You might not feel like your skills hit every single line on our job description – and that's ok, it's not a checklist! If you're meeting 80% of the skills listed, please apply. If you're not meeting that criteria, you could consider applying for a different role level to make sure you'd be comfortable and supported in the role.
screening call - our Talent team reviews every application. If they're interested in your application, you'll be invited to a screening call. This is an informal conversation for both sides to answer questions and learn about each other. You might be asked for a portfolio, but this depends on the role you're applying for. 
interview – after a screening call, the next step is a full interview with members of our team. The steps here may differ slightly depending on the practice area and level of role. But generally speaking there's a task, presentation, and questions. You'll get the structure and questions in advance to make the process fair for everyone. We recommend using the STAR method to structure your response for case studies and question responses – it can be a helpful framing to get you started and to help frame the flow of your answers.
feedback – after an interview, we'll share constructive feedback. Hopefully, this will help you to either set objectives in our organisation, or, if you're not successful, help you secure a different role or progress in your existing organisation. 
TPXimpact culture
Alice Bishop, one of our Senior Content Designers spoke about the three main reasons she enjoys working at TPXimpact:
trust and autonomy – we're trusted with how we do our work, and how we balance that work with our personal lives. Life admin is something we can flex our time around. We can work remotely or at a TPXimpact hub, as long as we're collaborating and communicating effectively.

healthy work-life balance – we aren't encouraged or expected to work beyond our contracted hours on a regular basis. Instead, we're empowered to speak up when there's too much work for the time we have. 

kind, collaborative and open-minded design community – it's ok if we don't have the answer, or haven't done something before. We're not all expected to have the same experiences and skills – regardless of our role. We can show our vulnerabilities without judgement, and count on others to be supportive and give their time to help.
Emma Sutcliffe, one of our Lead Design Researchers, added four things come to her mind to summarise our culture at TPXimpact:
we're empowered to have an opinion – no matter your job title, everyone has a voice – in meetings, shaping approaches, giving feedback or asking questions. We create a space where everyone can input. The one constant as I've progressed in TPXimpact is that my views have always been respected, no matter my job title. 

we strive to help others succeed – our Line Managers, Heads of Practices, regular Community of Practice sessions and Design Surgeries give lots of opportunities to support each other to do our best work.   

we're responsible and conscious in the work we choose – our qualification process ensures we only put ourselves forward for work that matches our company values.

we work in partnership – we work with, not just for, our clients. Through our delivery we also provide organisations with the skills to succeed once our team has left.
Putting together a portfolio
Tash Wilcocks, one of our Design Leads, talked about what we look for in portfolios:
"There's no one size fits all approach with portfolios and case studies, and not all roles  ask for one. Approach your portfolio like you would any design project. Adapt and curate your portfolio towards the role – you can have more than one version of a portfolio. But don't lose your voice and personality, your important evidence, your role, your impact in the projects – everything that makes you… you!"
Our Head of Interaction Design and Product Charles Reynolds-Talbot added: 
"For Senior and Lead roles, we look for presentations that aren't just walkthroughs of case studies but actually deliver a solid narrative of your design approach and mindset. For Midweight roles, two clear and concise case studies that don't just show all the artefacts created as part of a process but focus on showing the thing — what did it all result in, why did you choose to follow certain processes, what was the outcome?"
Learn more about opportunities to work with us
You can learn more about our recruitment processes at TPXimpact, or view all our open job roles.
Our recent blog posts
Transformation is for everyone. We love sharing our thoughts, approaches, learning and research all gained from the work we do.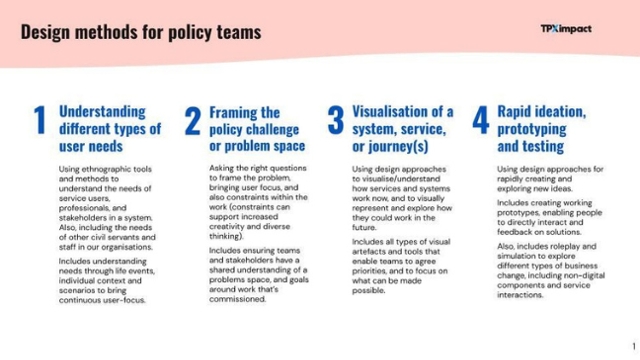 How one of the newest members of our team experienced our latest in person design team meet up.
Read more