Back in September, at Service Design in Government, 18 months after Laura Yarrow and I introduced our approach to design maturity, I saw this work on screen at Martha Edwards' presentation: Going Beyond Planting Seeds. I recognised that we needed to share the latest version of the tools, and the opportunity for other organisations to use or build upon this work – this blog post is an update to our design maturity approach.
Explaining our Design Maturity Assessment approach
This is the latest version of our Design Maturity Assessment approach: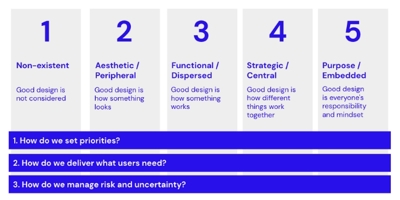 Here is the latest version of the template we use (Google Sheets format). Alternatively, you can download a Microsoft Excel XLSX file version. 
The spreadsheet gives organisations and teams a more detailed framework and set of prompts to support meaningful conversations about user centred design. 
At a high level, it works by using descriptions of 'good design', split into five stages of maturity. 
Non-existent – Good design is not considered
Aesthetic/Peripheral – Good design is how something looks 
Functional/Dispersed – Good design is how something works
Strategic/Central – Good design is how different things work together
Purpose/Embedded –Good design is everyone's responsibility and mindset
The framework then works as a matrix with a further three questions to consider:
How do we set priorities?
How do we deliver what users need?
How do we manage risk and uncertainty?
How we've used this template
In the most simple way, people can capture their individual responses in a copy of the template. When we first tested this tool, we asked designers and researchers to read each category, mark which 'level' best described the behaviours in their teams, and to add real examples – such as conversations, decisions, meetings that brought that to life. 
Using this approach, organisations can quickly build an overall picture of design maturity.  Even if all projects and teams aren't represented, this exercise can still be a solid starting place to start thinking about interventions, and how best to embed and support good design and user centred practices across programmes of work. 
Most recently in 2023, Ben Holliday (TPXimpact Chief Designer) has been leading work providing strategic support to the User Centred Design Practice at DWP, led by the Head of User Centred Design (UCD), Fay Cooper. 
The Design Maturity Assessment approach has been used as part of workshops to engage with a wide range of people across the department. This has included not only UCD teams, but also a large number of representatives from programmes of delivery in the Digital and Technology functions, including policy and operational teams less familiar with user centred practices.
As part of an expanded workshop approach (with workshops run remotely), we've found that using an online survey tool has worked really well to capture scores and examples against levels of maturity and through discussions around our follow up questions. The format also allowed more space for facilitated group discussions, and for follow up interviews with individuals before a report and recommendations were made back to the department. 
A key part of using the Design Maturity Assessment approach here was the framing and discussion of what good design meant for the department. Ben and the DWP UCD practice teams were able to clearly set up the purpose of good design, filtering it to goals and department strategy. This approach is about ensuring that user centred design is understood as something that can underpin service improvement, as well as a way for teams to effectively support internal change and modernisation through investment in technology – transforming ways of working. 
Use and build on our template
We've put this template out in the world to see how it can evolve and be useful in different contexts, and with more organisations. If you use it, we would  love to hear how it works for you. You can share any feedback directly with me.
Credits
This design maturity approach has been adapted and extended from the work of Sabine Junginger - Design in the organization: Parts and wholes, and the Danish Design Ladder.
The spreadsheet tool shared here was originally developed by Isabella Burt-Morris (TPXImpact) and Laura Yarrow (HM Land Registry) during their partnership in 2020-2022, and has been further updated by Ben Holliday (TPXimpact). This work was originally referenced and shared here.
Our recent blog posts
Transformation is for everyone. We love sharing our thoughts, approaches, learning and research all gained from the work we do.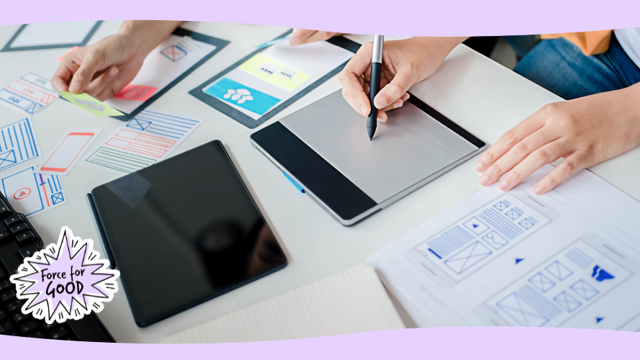 Find out what the design team has been up to throughout November.
Read more