Challenge
Buckinghamshire Council (BC) developed a shared digital provision of information, advice and guidance on all services for adults available across Buckinghamshire to try and help citizens understand and access support. However, the council found that the platform actually led to an increase in general enquiries, particularly for services not provided by the council. This increase in demand showed the council that the platform was not meeting the needs of citizens.
BC needed to redesign their digital front door for adult social services to provide better access to accurate information that would support citizens to find the services they need, while also reducing demand on council staff. The council invited TPXimpact to improve access to quality information and advice for their residents.
Solution
The vision for BC was to redesign the digital front door for adult services to deliver the best possible content and public services. We narrowed that down even further and designed a set of digital products and projects across the health and social care portfolio for adult services. These would connect people to health and social care provision that is user centred, focusing on meeting the needs of both residents and professionals by providing the information, advice and guidance to help people find and access the right care and support, so that:
more people use the website as a front door and are supported to maintain independence
there's reduced demand for formal support from the council
we focus on developing content and services that meet citizen needs
we increase resident and professional support online
Together, we wanted to create a solution that met the needs of citizens, understanding that their needs would shape the design, content, features and technology behind the project.
We used a hypothesis led method, drawing on our previous knowledge of adult services and adult social care, to shape the focus of the research. The advantage of this approach is that it can save time, as the initial discovery can be focused to prove or disprove hypothesis rather than as a broad opportunity to learn the issues.
As every place has its own unique needs, we ran a workshop with stakeholders to review our hypotheses and agree on which ones were most relevant to Buckinghamshire and what may be missing. We then grouped these into the themes of ease of accessing information, understanding the available support and entitlements for citizens.
We tested our prioritised hypotheses through research which included interviews and data collection with 45 residents, six community and voluntary services, 20 council staff and seven health professionals.
The research helped us develop an 'as is' map, showing how the services worked and the connections between them, such as early health and the journey of a citizen from the moment they need help to the moment they get support. From the research, we found that citizens:
knew what they wanted and needed a reliable search mechanism to locate the information quickly
had a transactional problem and needed clear prompts to access the right information
didn't know what they needed (for this group we found that navigating options based on life events was the most popular and useful option)
were looking for activities or informal support and needed a different digital service to help them locate multiple options
Accessing Information
We found that citizens looking for activities and information support needed a more defined digital service to access timely information about activities and groups near them. BC was already investing in collecting and providing this data, but the way to access it was unclear. We built a new tool which is now embedded into the current CareAdviceBucks website.
In developing this tool we reorganised both the back end process of managing the data for staff as well as the front end process of searching for activities.
Impact
We've improved the design of the existing website for simplicity and consistency, stripping it right back to emphasise the content. To help citizens find support through the website, they now easily see the types of situations they can get help with through the 'find support near you' tool alongside an overview of support available for the life event including emotional, practical and financial. This tool also provides signposting to resources and services, tools to help them understand entitlements and costs, a first point of contact for council services and personal stories from others who've experienced similar life events.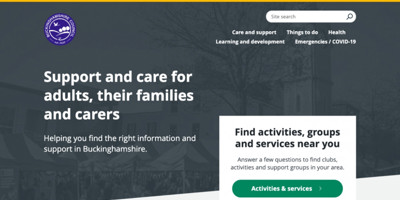 The tool then provides options for support groups, activities and organisations active in a citizen's local area that are filterable by venue accessibility, age group and more. Each service is actionable, with a website or contact details so citizens can go directly to the source if they only need a particular kind of support.
Shorter term impacts will see an increase in citizens who can self source support, enabling the council to spend more time with residents with higher needs.
The long term outcomes from this project would see an increase in people maintaining their own independence, specifically being better able to forecast their long term needs and a reduction in demand for formal support from the council.
We also laid the foundations for a more flexible approach to building tools by applying open data principles. This means that data is stored independently from the front end tools that use it. In the future, we can derive other user experiences from the same data set, without needing to duplicate work.
The API can also eventually be opened up to third parties, inviting app developers to use the data and build more, creative solutions.
New ways of working
This was the first project for Buckinghamshire Council where citizen needs had been formally placed at the centre of the change process, both in terms of helping to identify what needed to be changed and what a successful solution to that problem looked like.
This project brought immense value to the council, with internal teams learning new skills like multidisciplinary working and agile rhythms. The teams were hands on in user research and user testing, while also learning more formal content design repurposing existing content for the new site.
The teams also gained a wider strategic understanding of the value of the citizen or user voice in the process of making decisions, formally agreeing the approach while helping senior leadership empower the project team to lead the design decisions, which resulted in a significantly faster process of signoff for the proposed new designs than any other project.

Our latest work
Transformation is for everyone. We love sharing our thoughts, approaches, learning and research all gained from the work we do.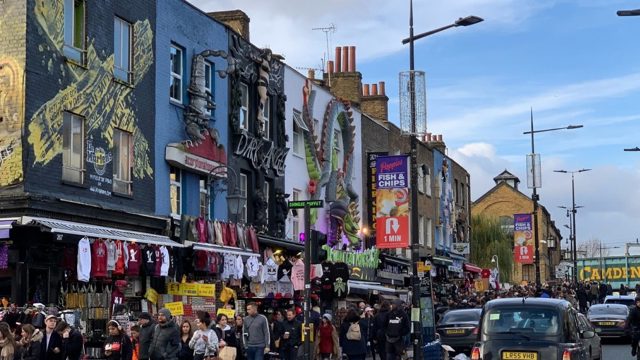 Designing and testing a digital site notice
Working with Camden Council, supporting them to design a site notice that encourages residents to get involved with local planning developments to participate and have their say on shaping the future of their place.
Read more
The future Northants Programme
How we used a partnership approach to design and build new websites for two new unitary authorities in Northamptonshire.
Read more