The majority of councils have declared a climate emergency, but without tried and tested solutions or clear action plans for reducing carbon emissions at scale, many are unsure where to start. 
In theory, we know we need to drastically reduce the number of cars on the road and transition to renewable energy sources to heat homes, but the social, financial and technological risks of doing so at scale are unknown. 
The majority of cars and homes are owned privately, which means councils have little control over the assets that need to be upgraded. Without the power to deliver change themselves, many councils are unsure how to make large scale change happen or who is going to foot the bill. 
The prospect of tackling our entrenched dependency on cars and fuel without the necessary resources, capabilities or power to drive change seems insurmountable. Neither carrot nor stick seems available.
So, what's the solution?
Designing systems and services to influence change
The transition to net zero will be disruptive. It will change many aspects about the way people live and work. There will be no silver bullet, no magic technology solution that we can deliver in the background. Fundamentally, we must consider how we can design services and systems to help people adapt, influence them to act, and bring communities along on the journey.
In a system where cars and homes are privately owned and councils lack the authority to enforce change, we must design interventions that make positive choices possible, if not attractive, to citizens. For example, choosing to commute on public transport over a car, or making it easy for people to access personalised information about their property so they can estimate the cost of insulating their home.
And in a scenario where public service providers are responsible for the wellbeing of people with a range of needs — such as those who cannot afford to pay for the rising cost of their energy bills, or those who live miles from the nearest public transport link — we must understand the intended and unintended consequences of potential solutions so we can mitigate harm to vulnerable people and communities. What if low income residents can't afford to upgrade their appliances to optimise their energy use? What if a disabled resident is priced out of charging the medical equipment they need to stay alive? 
Taking a service design perspective
Service design is about understanding what people need and designing services and systems that help them achieve their goals, whether that's booking a train journey, buying an electric car or investing in a neighbourhood heating scheme. 
In service design, we identify and remove barriers to make it easy for citizens, businesses and communities to take action to achieve goals for themselves. As councils look to influence large scale change — rather than deliver change themselves — this perspective is a vital piece in the puzzle.
But services don't exist in a vacuum. In the complex reality of public service delivery — where councils have all the responsibility but little power, and work within established legacy systems and policy constraints that seemingly prevent change — we need a view of how all the different parts fit together to inform decisions about where to focus our energy. Which changes could have the biggest impact?
Here, service designers help by mapping the systems in which services are delivered to identify opportunities for innovation and choose the right levers to pull based on what is needed, what is valuable and what will deliver the greatest impact with minimum effort.
A service design perspective:
1) zooms out on the wider context to understand opportunities for innovation in complex systems and what levers we can pull to influence change
2) focuses on impact to solve the right problem and design effective solutions and services that deliver positive outcomes
3) zooms in on what people need to understand how we influence behaviour and minimise harm
Recently, we have been supporting clients and councils with this work across the transport, energy and planning sectors. 
Here are three ways we've supported teams to build their service design capability and make solutions more human centred.
1) Zooming out to identify opportunities for innovation — Encouraging councils to take practical action with Connected Places Catapult 
To tackle the barriers preventing councils from taking action on net zero, we recently worked with the Connected Places Catapult and Open Innovations to design two prototype services to show what practical action councils can take to move forward.
First, we developed a statement about what action we think will lead to change. Our working hypothesis was that councils will make better decisions about taking action on net zero if they facilitate collaboration between sectors and the general public and share data.
We brought together subject matter experts to identify the shared problems they need to solve across the planning, energy and transport sectors. We used design thinking to frame these problems in terms of the system components and ways of working we wanted to influence — data, collaboration and decision making. 
We designed: 
To make either service possible, councils need to reconfigure different parts of the system — such as policy, data and decision making — shifting ownership into the public realm to enable collaboration. We mapped these system components to visualise how different parts of the system fit together and demonstrate alternative ways of working to provoke new ideas about what could change.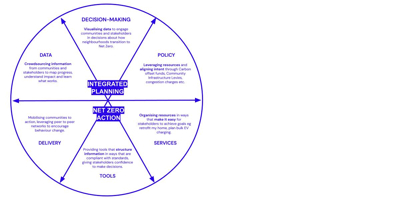 In both cases, we showed how councils can take on an enabling role, leveraging policy, data and decision-making to provide services that make it easy for external partners (whether landowners, DNOs, businesses or residents) to take action instead of delivering change themselves.
2) Focusing on impact — Reducing cars on the road in the West of England 
In 2021 the West of England Combined Authority (WECA) received funding from the Department for Transport to deliver five pilot projects aimed at reducing the number of cars on the road. Heavily focused on technical solutions, the WECA team wanted help to consider how the interventions could be more human centred to deliver maximum impact for residents. 
We supported them to identify the wider social benefits of transport that were important to people like ease of use, accessibility and economic growth. As well as reducing the number of cars on the road, it was important that public transport solutions give everyone convenient and improved access to work, regardless of their circumstances. 
This formed the basis of a human centred vision for transport in the region. It helped WECA think about how to make public transport options more practical and attractive for residents by meeting their needs and improving their overall experience of the area.
3) Zooming in on needs to influence behaviour — Transitioning to low carbon energy in Southend
Similarly in Southend, we helped Project Remedy — a consortium of public and private partners including Vitality Energy, SMS, Southend Council, Energy Unlocked and Innovate UK — consider the needs of residents in order to develop a viable business model for a smart local energy system. 
Smart local energy systems are a way of joining up energy assets and infrastructure — such as solar panels, batteries and EV charging — to make the best use of energy in a local area.  Like many net zero initiatives, they are an emerging solution with low adoption. Focused first and foremost on how smart technology could optimise energy use for whole blocks of flats or even neighbourhoods, the benefits for residents are unclear and there is limited understanding of the likely impact that a system like this would have for households. 
We supported the consortium to carry out user research to understand how residents at risk of fuel poverty make choices around their energy use. By understanding how people manage energy in their everyday lives and the challenges they face with existing providers, we were able to design a new and competitive service model that responds to these needs, and mitigates these risks.
We used this insight to design four behaviour change levers showing how different tactics could make it easier and more attractive for different types of residents to transition to a smart local energy service.
In line with Government Digital Service design principles, we identified the following user needs to inform the design of our Smart Local Energy Service offer: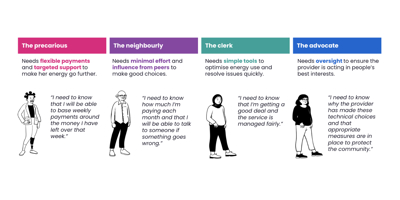 From these needs, we created four behavioural change levers: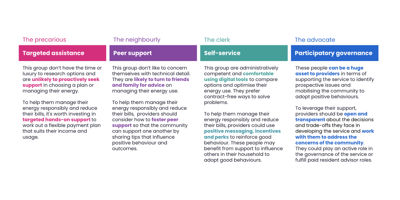 Crucially, we supported Project Remedy to design a smart local energy service — not a system — that would help residents achieve the goals they care about like making it easy to manage their everyday energy use around a household budget or giving them confidence they've secured a fair deal. 
Service design puts people first
As these examples show, service design can help organisations and individuals navigate complex environments to bring about positive change.
As our Chief Designer, Ben Holliday, writes in our new book Multiplied, too often "we force people to adapt to the needs of technology, rather than the other way around." That's why a service design perspective that puts the needs of people first and designs technology solutions and services to meet them is essential to achieving net zero. 
Our recent insights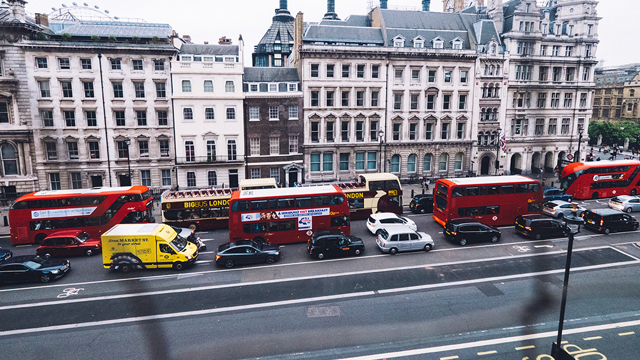 Designing and developing FamilyStory
Focusing first on child protection, FamilyStory is transforming the way local authorities approach technology for children's social care.
Read more