I'm Daf. I'm new here. Hello 👋
When you start a new job, you can spend hours flicking through bottomless Miro boards and slide decks. It's ok, but it has its limitations. Designers like to do things, to make things, get involved and get together. So I was very happy when an invitation for our latest Design team day dropped into my calendar. 
A chance for me to meet my fellow designers in person? Tick. Wear my 'I'm a designer' clobber? Yussir. Trip from Manchester to swanky London? Ahh, g'wan then.
I've just come from the retail sector, which was a super-fast 'ship-it-and-learn culture'. Lots of data, quick decisions and bold leaps forward. And TPXimpact? I joined because I believe in the company values, and wanted the chance to do meaningful work. But I was curious to see how design shapes up at a consultancy. 
My hot take? There's a very good design culture at TPXimpact.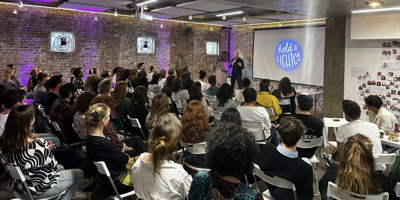 Firstly, there are almost 120 designers at TPX – wow! Interaction designers, content designers, service designers and design researchers. So many people to learn from, and so many different design projects.
What I learned from the team day
Here are six things I learned from the lightning talks and project shares at our team day.
I got tips and tricks for working in Beta from the NHS Volunteering team. How to design for inclusion, simplify complex organisation structures and make handovers meaningful 
Can replicable, modular approaches be used to shape services from start to finish? Spoiler alert: Yes. Service patterns are a thing
I learned what a good design system looks like, and how the team created consistency, supported new designers and built design capability at the Parliamentary Digital Service
How we got career pivoters and early career designers to join our ace new Design Academy. I'll be honest with you. I've met some of the designers in the Academy and they are impressive. Loads of enthusiasm and new ideas 
The importance of different skills and perspectives
One of the great things about design here is the different skills, experiences and perspectives. The design team days  are useful because they bring us all together. We can mingle thoughts, approaches and ideas in a safe, inclusive space
How the Design team works
We're a big team. And that's amazing. But with that comes some challenges. We're spread out across the UK, and working on varied programmes of work. Chief Designer Ben Holliday told us to constantly ask for help, share work and use feedback. This approach is crucial to help us improve our work, and work even better together
Some of the fun stuff
You can't have a design team day without a bit of fun can you?  
We designed the worst possible ice cream parlour experience (it involved smelly boots and bees – don't ask). We were also asked 'which TV family would you like to be part of?' (my answer: Only Fools and Horses – again, don't ask).
It was a fantastic way to get to know my new colleagues. If you're a designer, there's a lot to like at TPXimpact. 
Our recent design blog posts
Transformation is for everyone. We love sharing our thoughts, approaches, learning and research all gained from the work we do.