Insight
Fighting Covid-19 with NHSX, getting key workers back to the frontline in 8 days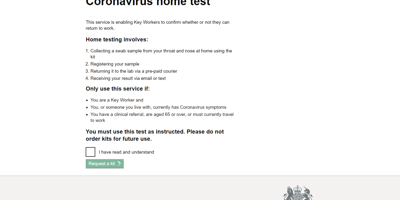 Service

Organisational design and change

Sector

Health

Date

07 May 2020
Three key factors that I believe enabled us to deliver the outcome so quickly.
I've been working with NHSX for the past seven weeks as Product Manager for the Covid-19 home test ordering service alongside my colleagues Andrew Larcombe (Technical Architect), Jay Heal (Service Designer), and Ben Showers (NHSX Head of Digital Transformation).
It's been an incredibly personal project for me as my mum is a Healthcare Assistant on the frontline working with vulnerable Covid-19 patients and I'm incredibly proud of the work that we've done in supporting our key workers.
Together with many organisations, including our friends at the NHSBSA, we achieved the project's strategic outcome:
"Enabling key workers in isolation to return to the frontline following negative Covid-19 test results for them or their household members."
This project has been hugely successful on so many levels.
For example, we've:
A particularly massive achievement for our team was delivering the complete service just five days after we started, with NHS workers ordering home testing kits on the eighth day of the project.
It's at this point that we'd delivered the outcome we set out to achieve.
Key workers were able to order a home testing kit, send it back to the lab for analysis, and get a result that enabled them to return to the frontline as soon as they were well enough to do so.
All in just eight days!
In light of this experience, I wanted to share three key factors that I believe enabled us to deliver the outcome so quickly.
1. We turned traditional delivery on its head
The critical need to deliver the project outcome ASAP leant itself nicely to a lean agile delivery approach.
So instead of the traditional:
Discovery (x weeks) > Alpha (x weeks/months) > Beta (x weeks/months) > Live
we opted for a leaner delivery model of:
1 day Discovery > 1 day technical Discovery > 3 days of MVP build > learn from real users > continuously iterate
Through this approach, we started by learning enough about the end to end service (evolving by the hour) and combined it with some good assumptions on user needs in order to form a hypothesis that could achieve the outcome but would need validating with real users.
We then explored the art of the possible with our AWS partners and defined a functional Private Beta MVP, which we built in three days (including full integration with Amazon logistics for home test order fulfilment).
Shortly after, we created standard operating procedures for an assisted digital call centre and invited actual NHS workers in self-isolation with unconfirmed symptoms to use the service.
We conducted a full diary study of their end to end service experience (including ordering, registering, returning, and receiving the results of their home testing kit) and used these learnings to continuously iterate the service through larger Private Beta invitations — utilising web analytics, service metrics, and daily call centre feedback.
At one point we were learning new things from call centre feedback at 9am and deploying improvements to the Private Beta service by 1pm whilst people were using it.
Having successfully delivered time sensitive outcomes using this approach in previous projects, I was confident that it would work in this setting.
Being trusted and empowered by our project lead (Ben Showers) to utilise this approach was instrumental in us achieving the outcome so quickly.
This leads perfectly to the second factor…
2. We were empowered and trusted to deliver
With all the will in the world, you will not be able to successfully achieve a positive outcome if you don't have the backing and support of your decision makers and key stakeholders.
Thankfully, we did.
When we started, we were asked to focus on creating something that would allow key workers to order test kits but with limited context as the end-to-end service was in the process of being defined.
After an initial discussion with Ben, we started asking questions around what work had been done so far and who was managing different parts of the overall service. He then pointed us in the right direction on who to speak with.
Andrew, Jay and I set up and attended countless meetings with various stakeholders across the end to end journey (including labs, Amazon logistics, policy teams, couriers, etc) and we mapped out the end to end service (adding and removing parts as we learned new information).
By the end of day one, we had an end to end service map, a user journey, and defined the strategic outcome we were trying to achieve in a statement.
Playing this back to Ben, we had an agreement on the outcome and clarity on where our service sat within the wider operation with its interdependencies.
It's at this point that we agreed that the lean delivery approach would be most effective in delivering the outcome and we proceeded to create the service.
From this point on, all discussions started with "the outcome" we were aiming to achieve rather than "the output", which focused hearts and minds on the real impact of our service and the role that everyone played in achieving this.
So rather than "creating a home test ordering service" we were "enabling key workers in isolation to return to the frontline following negative test results for them or members of their household".
On day 6 we hosted a cross department show and tell, explaining the outcome, and our journey to date, and we finished off with a walkthrough of our Private Beta service.
We also invited a GDS assessor to a 15 minute walkthrough of the service as we had to host it on GOV.UK.
We quickly passed their assessment, with the understanding that we'd iterate the service around real user needs, and we had the home testing service hosted on GOV.UK that afternoon — complete with a GOV Notify account integration.
By bringing everyone together around our strategic outcome statement and delivering value at pace, we built trust and confidence in our approach which helped empower our delivery team to make decisions on the direction of the service with minimal bureaucracy and full support.
3. Everyone worked completely remote first
This sounds like a strange factor for success but it's important to note that everyone working remote first was highly beneficial for this project.
As mentioned earlier, we spoke to many different stakeholders on our first day, enabling us to map out the end to end service at that point in time.
Seeing as everyone was working on Covid-19 initiatives and able to avoid the typical distractions of office life by working from home, we were able to speak to the majority of people we needed to in just one day — albeit via back-to-back 30 minute video calls — which was enough to create a full service map and user journey.
This would have been much more difficult in a more traditional office based setting which might've taken longer for us to gather the info we needed/get all the right people in one room at the same time.
But what about whiteboards, post it notes, kanban boards etc?
We simply swapped those out for a remote whiteboarding app and online kanban board. These two alone were incredibly valuable assets in our remote delivery toolkit that everyone could easily use.
I do, however, think we've exhausted every type of video conferencing solution out there during this project.
Everyone working remote first was definitely an efficiency boost for the project.
Overall, a great success
My experience of working with NHSX on this project has been incredible and our team has achieved so much in such a short space of time.
Delivering the outcome in just eight days is impeccable and I thank every single person I've worked with over the last seven weeks. It's been an absolute pleasure.
Overall, the project was a great success and I'm looking forward to what the next steps of the service's evolution will bring.
If you've got any questions or thoughts on the approach our team have taken with this project, feel free to get in touch. I'm always happy to have a chat.