Insight
Communities Driving Change: What resilience looks like in practice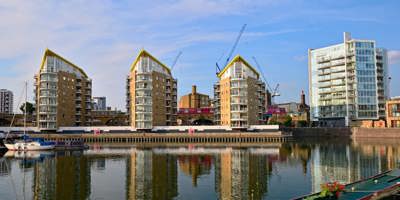 Sector

Local government

Date

27 October 2020
How we've been supporting Tower Hamlets Council by helping deliver the Communities Driving Change programme alongside The Young Foundation and MyTimeActive.
Ideas of investing in communities or resilience can often sound abstract, particularly when written in a council strategy document. But working alongside Communities Driving Change (CDC), an initiative pioneered by Tower Hamlets Council which supports residents to take action on their own health and wellbeing, we've seen this concept put into practice. This includes lots of up-close examples of what this investment can look like: the gradual process of building relationships, growing people's confidence or skills and connecting different people and partners together.
Over the last two and half years, we've been supporting two of the organisations that have been delivering CDC: The Young Foundation and MyTimeActive. Specifically around developing their community engagement expertise alongside design and systems thinking as they look to grow and increase their impact.
Recently, we've had the pleasure of supporting The Young Foundation and the wider CDC programme through a learning approach as they support a community-led response to the Covid-19 crisis and begin to navigate recovery.
Community resilience in practice
We've seen a host of resident led Covid-19 initiatives across Tower Hamlets. These include an emergency food response, volunteers distributing home learning kits for young people, medicine deliveries in collaboration with local GP surgeries and bike shops, and cooking classes over Zoom. All of which saw CDC play a quiet but crucial supporting role behind the scenes.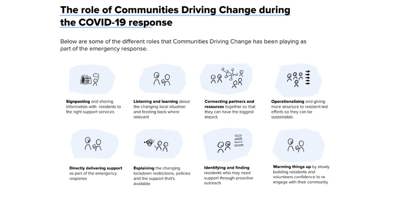 A group that has been left particularly vulnerable due to the Covid-19 pandemic are individuals with No Recourse To Public Funds (NRPF), a condition imposed on someone due to their immigration status.
Often in precarious work, much of which has ended due to the crisis, they aren't able to access government benefits due to their immigration status. Many families are left without the funds for food and in precarious and often exploitative housing situations, with some even being made homeless due to their circumstances. And for anyone living in fear of the risk of being detained means that people are fearful and untrusting to seek support from their governments.
However, in a neighbourhood in East London, one local resident, along with a network of volunteers has been sourcing and delivering food packages to over 500 people with NRPF. The operation uses cash donations to buy food in bulk, along with more being donated by local businesses which are then delivered by volunteers.
The focus now is on ensuring the sustainability of this initiative. This lifeline has been made possible, in part, by the programme, led by The Young Foundation. By supporting access to longer term funding, training and helping the group become a registered charity.
We've listed some of the many examples we've seen of the slow and careful investment in communities paying off. These projects are all run by the commitment of residents in Tower Hamlets. The hard work of the programme over the last two years to build trust, relationships and knowledge have also been essential to building community resilience.
Continuous learning into recovery
To support these efforts, we've been embedding ways for communities, local partners and the council to work in adaptive ways. Coming together to reflect on what is and isn't working, and developing new ways of acting going forward. Working together in a connected way, we've agreed a roadmap for change and had an opportunity to influence things at the council level. This ongoing process of acting, learning and reflecting will help the programme move forward from the immediate response into recovery, all while continuing to build resilience.
Local communities have a unique power and resilience that's been put to the test over the last six months, and programmes such as Communities Driving Change have helped them to harness and channel that potential.