Insight
AI in business report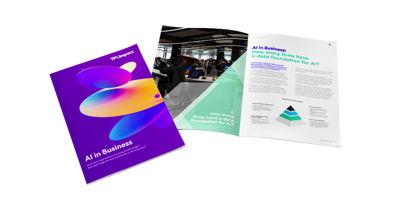 Service

Data and AI

Category

Insight

Date

01 November 2022
Artificial Intelligence (AI) in the 2020s looks more and more like the internet did in the 1990s. Every day, it becomes less of a fringe subject for the technically minded and more of a topic that businesses of all types cannot ignore.
How many UK organisations are actually using AI technology?
A Google search for 'AI business' brings up 1.5bn hits. In March 2021, the UK Government unveiled an ambitious plan to "unleash the transformational power of Artificial Intelligence". Globally, private investment in AI companies is rocketing. From $8bn in 2015, it reached more than $42bn in 2020. Meanwhile, the EU has set out plans to govern AI in an attempt to put European values at the heart of the fast-developing technology. But what difference is AI making on the ground today in the 1.4 million businesses in the UK with at least one employee?
How many are actually using AI technology? And at what stage are most businesses in their AI journey? Download the report to find out...